Airsoft Gun Charges in Ocean County NJ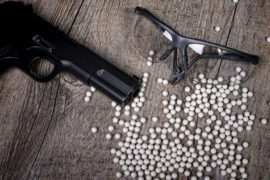 Airsoft Gun Possession in Ocean County, New Jersey While New Jersey law makes a distinction between deadly weapons like handguns, shotguns, and rifles, and what some people would consider recreational "toy" guns like airsoft guns, BB guns, or paintball guns, these later three are still classified as "firearms" under N.J.S.A. 2C:39-1. This includes electric airsoft guns, gas airsoft guns, spring-powered airsoft guns, pump paintball guns, semi-automatic paintball guns, 3-shot burst paintball ...
Weapons and Threats in Ocean County NJ
There have been several weapons threats in Ocean County, New Jersey recently, which raises an important question: what are the consequences of causing a security scare? The criminal defense attorneys at Proetta & Oliver regularly handle criminal charges arising out of weapons incidents. In this article, we will explain some of the charges that you or a loved one may face if accused of having a weapon or threatening to commit an act of violence in New Jersey. To discuss your specific ...
Manchester Police Arrest Man for Unlawful Possession of a Weapon and Other Charges
Police in Manchester, New Jersey recently arrested a local man who allegedly burglarized a vehicle and threatened a witness with a knife. The man is now facing serious charges, including unlawful possession of a weapon and terroristic threats. The aforementioned incident is said to have occurred in late October. The suspect, 44-year-old Manchester resident Shane W. Bowie, is accused of committing a car burglary during which he went through a vehicle's glove compartment. The burglary ...
Lacey Township Gun Theft May Lead to Criminal Charges
Officers from the Lacey Township Police Department are currently investigating an alleged theft reported by a man in Lanoka Harbor. The alleged victim told police that his handgun was stolen out of his garage recently. According to Lacey police, a man reported his gun stolen out of the garage at his residence on Clairmore Avenue in Lanoka Harbor sometime between 8:00 a.m. and 8:15 a.m. on Sunday, August 6th. The firearm has been described as a 9 mm worth approximately $300. The man told ...
Gun and Heroin Seized in Bricktown Bust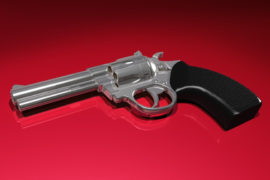 Father and Son Nabbed by Brick Police for Narcotics Brick Patch has recently reported that a father and son duo were arrested on a multitude of charges last week in a Brick Township home following a month long investigation by Brick Township Police and the Ocean County Drug Enforcement Unit who had been previously alerted to the distribution of heroin out of the residence. The search was executed by the aforementioned agencies with the assistance of the Special Emergency Response ...