Restraining Order Dismissed Against Law Enforcement Officer
Police and law enforcement officers are constantly putting their lives on the line to protect the public on a daily basis. However, even cops are not immune to the allegations of domestic violence or restraining orders. And for an officer a conviction of domestic violence or final restraining order can mean the end of their career because you are not allowed to carry or own a firearm. Over the years, our office has had the opportunity to represent and successfully defend several members of ...
Fake ID Downgraded to Ordinance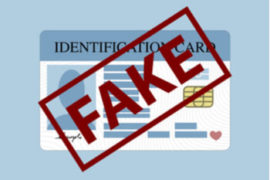 Our fake ID defense lawyer recently represented a client who had been charged with possession of a false government document under 2C:21-2.1c, a fourth degree crime, for having a fake driver's license in his possession. Our client was arrested after he was approached by police after they saw him looking visibly intoxicated and throwing up. The police also noticed that he looked young so they decided to approach him and investigate for possible underage drinking. However, when they asked him ...