Ocean County NJ Criminal Lawyer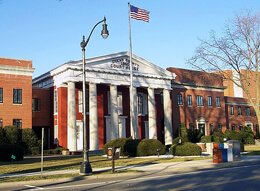 If you have been arrested and subsequently charged with a crime or placed under investigation in Ocean County, New Jersey, the most important decision before you is whether you will seek out and retain an attorney and which law firm will represent you. You need an experienced Ocean County criminal defense lawyer who understands the legal system when your freedom and your future are at stake.
At the law firm of Proetta & Oliver, it is our goal to provide every single client with the attention and respect that they deserve. Whether it's a first offense DWI charge, disorderly persons offense such as disorderly conduct, or a serious indictable crime such as Possession of CDS with intent to Distribute, our Ocean County criminal defense attorneys understand that the outcome of your case can impact you and your family for the rest of your life. For these reasons it is our absolute priority to provide you with a smart and aggressive defense while providing attentive and considerate customer care along the way. The attorneys at Proetta & Oliver offer big firm experience and services at a lower, more reasonable price. From our conveniently located office in Toms River, we handle cases in Lakewood, Brick, Point Pleasant, Seaside Heights, Lavallette, Manchester, and throughout Ocean County. If you or a loved one is facing criminal or DWI charges in Ocean County, contact us today for a free consultation. We can be reached anytime at (848) 238-2100 to answer your questions and will customize the most effective defense for your case.
Thousands of Successfully Handled Charges & Tickets
Proetta & Oliver, LLC in Toms River, New Jersey, stands for aggressive and diligent criminal defense. Our attorneys' top priority is protecting our clients' rights and well being at all times. Our Ocean County criminal and DWI defense law firm dedicates a large portion of its practice to the exclusive representation of clients for criminal, DWI, and traffic charges. We maintain the highest standards in our field and remain at the forefront of DUI and criminal defense law in New Jersey. The attorneys at Proetta & Oliver have handled well over one thousand charges in Superior Court, Municipal Court, and Federal Court. If you would like to learn more about our services and how we can help you, then contact us at (848) 238-2100 for a free initial consultation. If your consultation proves to be a positive experience, we will immediately get started on working with you to build a case strategy customized to the particular facts of your case as well as your individual needs.
Big-Firm Power with Small-Firm Genuine Care
The Law Offices of Proetta & Oliver provides diligent and effective legal defense for residents of Ocean County and throughout New Jersey in a variety of criminal defense areas including:
When you choose Proetta & Oliver to handle your legal matter, you will receive the benefits of a unique combination experience, skillful negotiation abilities, and hands-on personal attention. This combination is not always provided at larger law firms where various attorneys are often cycled in and out of representing the same client on the same case. This leads to confusion and time-consuming repetition of client concerns and needs. Our customer care allows us to often lead clients to a fast and successful resolution of their cases through pre-trial conferences and, in the alternative, considerable litigation skills to take any case to trial if necessary.
Experience is a Priority
A successful criminal defense lawyer must possess a combination of qualities that are important in order to competently and successfully assist clients facing criminal charges. At our firm, we have handled thousands of charges and tickets throughout New Jersey including Ocean County Superior and Municipal Courts. Whether the case involves an assault crime, a theft offense, weapons charge, or DWI, we provide effective defense and advocacy to our clients. William Proetta has big criminal defense firm experience and uses that valuable background to deliver exceptional legal services to all of our clients. Our attorneys have handled a wide array of disorderly persons offenses, indictable crimes and municipal charges. We employ a thorough understanding of court procedures, rules and strategies to obtain the results our clients demand. In other words, our firm has the right combination of skill, experience, and commitment to assist you.
Contact Toms River NJ Criminal and DWI Defense Attorneys for a Free Consultation
At Proetta & Oliver, we go above and beyond for our clients. It is of utmost importance to keep our clients' needs and goals in mind when pursuing a successful outcome in a case. Whether it is through negotiation or aggressive litigation, we stand by our clients and defend them until they reach a fair result. Our firm is looking forward to putting our services to work for you, so contact our Toms River offices anytime at (848) 238-2100 for a free initial consultation with an Ocean County criminal defense attorney.